Sculptra, London (11/10/2018)
Region:
London

| Venue:

Wigmore Medical Ltd

| Duration:

1 day
Course Topic(s):
Dermal Filler
Related Product(s)/Brand(s):
Sculptra
Sculptra is a long-lasting treatment that can smooth deep lines, wrinkles and restore facial volume lost to the body's natural ageing process. Sculptra is an injectable volumising treatment that stimulates the build up of the body's own collagen.
Venue Details: Wigmore Medical Ltd
Venue Address:21 Wigmore Street, London, W1U 1PJ
Fee:
£900 (VAT included) | Full Day Catering Provided
www.wigmoremedical.com/events/sculptra/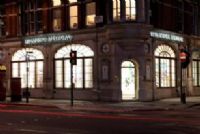 Conveniently located bespoke training premises in Central London near Harley Street and the West End.
Presenter / Speaker Details

Course Presenter:
Odile Brennan RGN, NIP
Odile Brennan, is a registered nurse with over 17 years experience working in facial aesthetics. Odile has been involved in the 'Cosmetic Surgery industry' since 1990 - from theatre nurse for minor cosmetic surgical procedures, to post-operative nursing, (including suture removal and dressing change) after major cosmetic surgery. This experience was gained from working with top London cosmetic Surgery Clinics and for Cosmetic Plastic Surgeons. Working as an independent practitioner Odile has developed a substantial private patient base. Apart from her private cosmetic client base she pioneered the treatment of HIV Related Facial Lipoatrophy in the private sector and played a significant role in encouraging the start up of NHS based HIV Related Facial Lipoatrophy Clinics. She currently holds a weekly clinic in the NHS. She is also a member of the steering committee for The Royal College of Nursing Competencies for Facial Lipoatrophy Treatment.
Disclaimer
www.cosmetictraining.co.uk accepts no liability for the accuracy of training course information listed above. All information is provided by the training course operator.
Training courses listed on www.cosmetictraining.co.uk are neither run nor organised by www.cosmetictraining.co.uk or The Consulting Room (www.consultingroom.com). We do not validate, accredit or verify the quality or educational content of training courses in any way. It is up to the individual to ask to see CPD or qualification certification and to do due diligence to satisfy themselves of the course quality when applying with the provider.
You will need to contact the listed provided directly using the contact information on the left hand side of this page in order to enquire about the specific training course. Please do not contact us directly.