Getting Started in Aesthetic Medicine, Glasgow (05/03/2018)
Region:
Scotland

| Venue:

Aesthetic Training Academy

| Duration:

2 days
Our Getting Started in Aesthetic medicine course is aimed at delegates with no previous experience in injecting Botulinum Toxin and Dermal Fillers. It is also ideal as a refresher course for delegates who have previously trained but have not practiced. The course consists of a series of seminars and observation of treatment and supervised practice.

As this is often the first exposure to aesthetic medicine for many delegates the course will cover legal implications, accounting and practical considerations of aesthetic medicine. You will also learn to understand the indications for Botulinum Toxin and Dermal Fillers. Finally we will cover the potential complications of treatment and how to manage these should they arise. The use of Hyaluronidase is also covered in this course.

We will teach delegates how to use botulinum toxin to successfully treat forehead lines, crows feet and frown lines. Delegates will also learn how to perform simple lip augmentation, treatment of fine lines, treatment of nasolabial area and treatment of the mesobalial area using hyaluronic acid dermal fillers.

At the ATA we believe that in order to be truly confident in practising aesthetic medicine a 2 day introductory course is essential. This means you avoid squeezing practical application of toxin and filler into one day giving you more time to practise on your model. It also means we can fully talk through the theory of toxin and filler, the varieties of product available on the market and the pharmacology of the products. Following the 2 day course we also supply a mentoring service whereby you have the opportunity to speak with one of our staff members about any questions or concerns you may have following completion of your training. You will also have access to video tutorials to refer back to when back in your clinic.
Venue Details: Aesthetic Training Academy
Venue Address:6th floor , 14 Mitchell Lane, Glasgow, G1 3NU
Fee:
£1500 (VAT included) | Full Day Catering Provided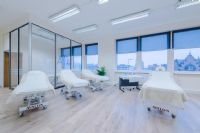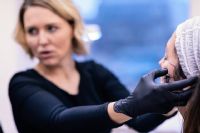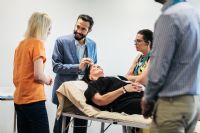 The Aesthetic Training Academy offers unbiased training courses for practitioners working in the field of aesthetic medicine. The courses are conducted by Drs Simon and Emma Ravichandran who have over 10 years experience working in the aesthetics field.
Disclaimer
www.cosmetictraining.co.uk accepts no liability for the accuracy of training course information listed above. All information is provided by the training course operator.
Training courses listed on www.cosmetictraining.co.uk are neither run nor organised by www.cosmetictraining.co.uk or The Consulting Room (www.consultingroom.com). We do not validate, accredit or verify the quality or educational content of training courses in any way. It is up to the individual to ask to see CPD or qualification certification and to do due diligence to satisfy themselves of the course quality when applying with the provider.
You will need to contact the listed provided directly using the contact information on the left hand side of this page in order to enquire about the specific training course. Please do not contact us directly.