Course Details
Region: Scotland | Venue: Aesthetic Training Academy | Duration: 2 Days
Course Topic(s):
Anti-Ageing, Botulinum Toxin, Cannula Training, Dermal Filler, Hyperhidrosis, Lip Augmentation, Non-surgical Rhinoplasty using Dermal Filler
Contact Details

Clinetix Aesthetic Training Academy
Contact:
Kelly Dunning

Address:
6th Floor, 14 Mitchell Lane,
Glasgow
G1 3NU
Telephone:
01698 852 093
Email Us
For more information on this course please add your name, email and tel below.
This course involves advanced techniques in Botulinum Toxin and Dermal Filler training. It has been designed for those who have previously trained in basic toxin and filler courses and are now looking to build their portfolio.
Course Content
We combine seminar-based learning with observation and supervised practice of procedures. One of the key features of the course is consultation and advanced facial assessment. This allows delegates to appreciate a full face approach to facial rejuvenation. Throughout the course, we will discuss anatomy and physiology of the ageing face with particular attention to the midface, dermal filler bio-physiology, avoidance and management of complications and the use of hyaluronidase.
The course will expand your knowledge of Botulinum Toxin to cover treatment of the neck, the jawline, the nose and lip depressors. It will also show you how to use Botulinum Toxin to reduce masseteric bulk. We will also build on previous knowledge and experience with Dermal Fillers. We will cover rejuvenation of areas such as temples, cheeks, marionettes, jawline and chin.
Venue Details: Aesthetic Training Academy
Venue Address:6th floor , GlasgowGlasgow, G1 3NU
Fee: 1500 (VAT included) | Lunch Provided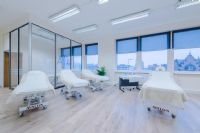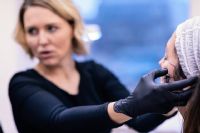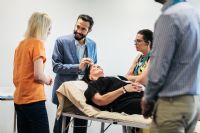 The Aesthetic Training Academy offers unbiased training courses for practitioners working in the field of aesthetic medicine. The courses are conducted by Drs Simon and Emma Ravichandran who have over 10 years experience working in the aesthetics field.
Disclaimer
www.cosmetictraining.co.uk accepts no liability for the accuracy of training course information listed above. All information is provided by the training course operator.
Training courses listed on www.cosmetictraining.co.uk are neither run nor organised by www.cosmetictraining.co.uk or The Consulting Room (www.consultingroom.com). We do not validate, accredit or verify the quality or educational content of training courses in any way. It is up to the individual to ask to see CPD or qualification certification and to do due diligence to satisfy themselves of the course quality when applying with the provider.
You will need to contact the listed provided directly using the contact information on the left hand side of this page in order to enquire about the specific training course. Please do not contact us directly.